Archive
Hail to the Chief — Frank Synowicz's reinterpretations of the US presidents images
In his childhood days, Frank Synowicz filled school notebook margins with deformed portraits of presidents. Nowadays as a full-fledged artist, he is still under the spell of artistic explorations into coincidences, grotesque figures, and the topsy-turvy world – the antithesis of an orderly, rational outlook on reality. With strategies that fit the imaginary world of carnival celebrations, his Hail to the Chief series probes into the dark side of political power.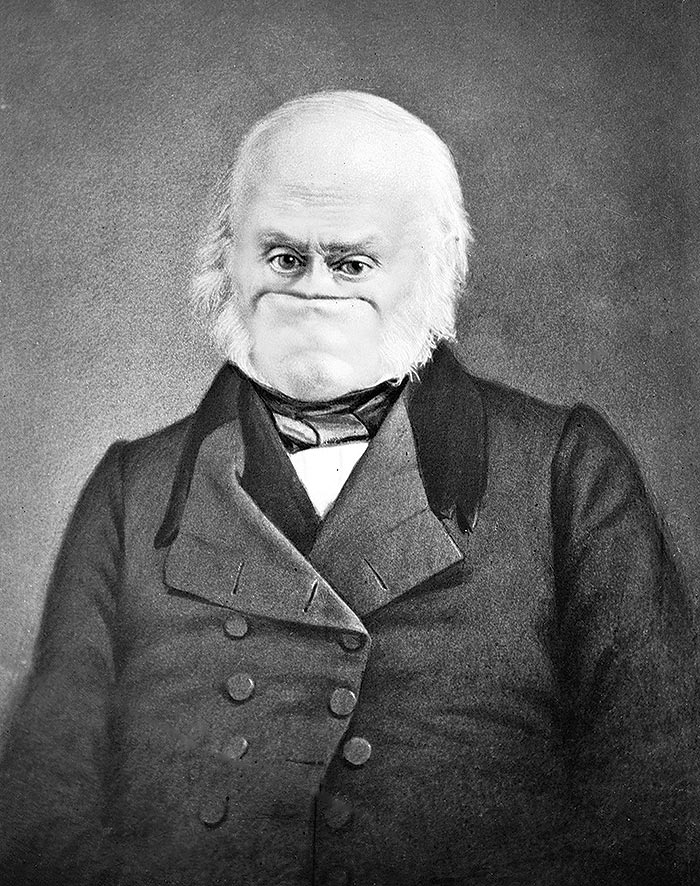 Synowicz forces presidents to step down from the grandeur of their glory and majesty.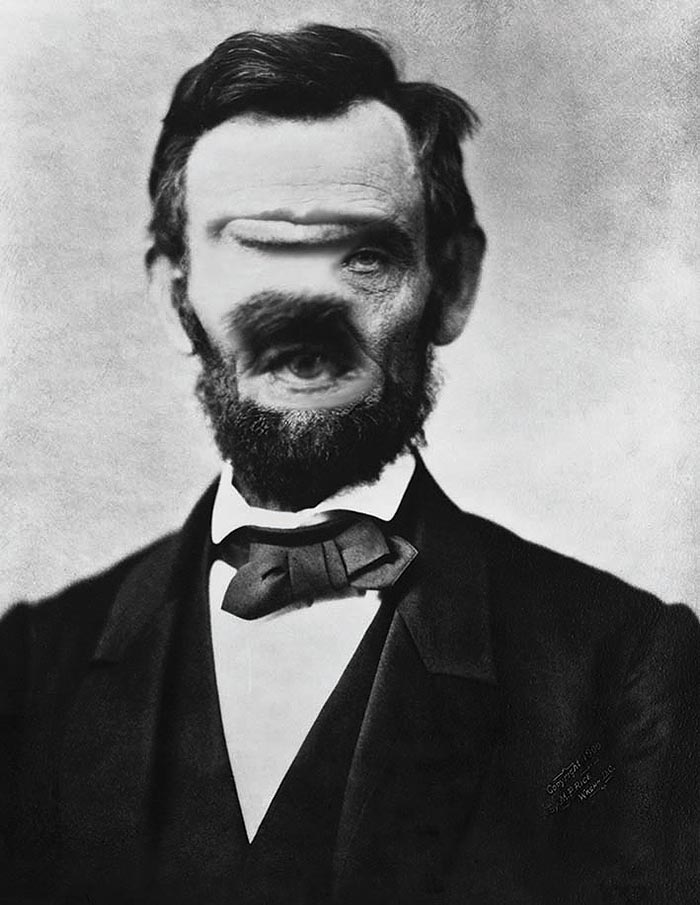 The artist plays with portraiture, a genre that constitutes a quintessence of dignity, careful study and solemnity. He has preferred to modify presidents' portraits instead of showing scenes from everyday home or office life. Moreover, he avoids representing action scenes, such as official debates or conferences. He also refrains from displaying these presidents performing their duties, such as engaging in official gestures or activities. Instead, we only get to see their heads and a bit of their bodies, wearing appropriate uniforms – as if they were masks matching their functions. Historical portraits show presidents with their heads slightly raised, sometimes inclined to one side, so as to show their more attractive profiles. A subtle smile and courageous gaze complete the pictures.
Marta Lisok, fragment of the text from the catalog published for the exhibition
Presidents by Frank Synowicz is an exhibition realised in collaboration with Belgian gallery Atelier 34zero Muzeum, showcasing a series entitled Hail to the Chief, in which the artist reinvisions the portraits of presidents of the United States.
Frank Synowicz graduated from the College for Creative Studies in Detroit. His first creative steps were in the film and television industry. He is currently a multimedia artist who adeptly combines photography, animation, video and virtual reality with traditional genres such as painting and drawing. His visual experiments on representational portraits of presidents comprise the artist's commentary on the 'dark side' of election campaigns, which use everything from mudslinging of other candidates, through making attractive promises, to engaging in manipulations and threats.
Individual exhibitions
2017 Los Angeles Center for Digital Art 'Hail to the Chief' Los Angeles, CA. USA
2016 Present Picture Shop 'Abiogenesis' Burbank, CA.
2005 Leydet Collection (private show) 'In-turning' St. Clair Shores, MI. USA
2003 London Calling Gallery 'Paralands' Detroit, MI. USA
2002 Labyrinth Gallery 'Order of Chaos' Detroit, MI. USA
2002 Mephisto's Museum 'Eye of the (w)Hole' Detroit, MI. USA
2001 Tagged & Bagged Gallery 'Ocean of Visual Storms' Royal Oak, MI. USA
2000 MSUCG Galleries 'Garden of Paradox' East Lancing, MI. USA
1999 CBG Gallery 'Paranoctus' Rochester Hills, MI. USA
Group exhibitions
2019 BWA Contemporary Art Gallery 'Banners' Katowice, Poland
2019 Waterfront Gallery 'The Art of Tech' Venice Beach, CA. USA.
2018 Atelier 34zero Muzeum 'Publicité pour une oeuvre d'art' Brussels, Belgium
2016 Los Angeles Center for Digital Art 'Electron Salon and Video showcase' Los Angeles, CA. USA (participating in group exhibitions on a monthly basis since 2016
2016 Apero Gallery 'Human Beings' Los Angeles, CA. USA
2016 Globe Theater DTLA 'Futures' Los Angeles, CA. USA
2016 KGB Studios 'Undergrounds' Los Angeles, CA. USA
2015 Boulevard 3 RAW 'Bold' Hollywood, CA. USA
2014 Exchange Room Gallery 'I AM' UCLA Los Angeles, CA. USA
2010 Burton Theater / House of Raw 'Erratic Tendencies' Detroit, MI. USA
2006 CCS Center Galleries 'Senior Select Showcase' Detroit, MI. USA
2005 Contemporary Art Institute of Detroit 'Performance Art and Video Premiere' Detroit, MI. USA
2004 Tangent Gallery 'CASP Performance Art and Video Premiere' Detroit, MI. USA
2003 D E MF 'Movement Festival Performance Art and Video Premiere' Detroit, MI. USA
2003 Detroit Film Center 'Independent film and video showcase' Detroit, MI. USA
2001 Saginaw Art Museum 'Works on the Page' Saginaw, MI. USA
Lectures and presentations
2017 Judge (category of animation) Polish Film Festival Egyptian Theater. Hollywood, CA. USA
2017 Guest lecturer 'Artists and creative professionals' USC. Los Angeles, CA. USA
2008 Guest lecturer 'Artist/Curator lectures' Molekula School of Design. Rijeka, Croatia